Complex feed enzyme additive for ruminant Nutrizyme SFC-061
PRODUCT DESCRIPTION
Nutrizyme® SFC-061 is an enzyme complex made up of beneficial enzymes to ruminant. It's designed based on the working mechanism of rumen digestive system and the nutritional composition of their feedstuff through biological tests. The individual enzyme is made from finely selected strain by submerged fermentation and purification. The product is able to promote the milking performance of ruminants, increasing milk yield and milk fat content.
Items

Standard

Appearance

Powder

Colour

Light yellow to brown

Odour

Slight fermentation odour

Enzymatic Activity profile (U/G)

Cellulase

≥300

Xylanase

≥1,000

β-glucanase

≥1,500

Mannanase

≥30

Neutral protease

≥500
RECOMMENDED DOSAGE
1KG/MT of TMR (feed)
Well mixing of the product ensures its good performance. The suggested way is to do stepwise mixing before feeding, first with small quantity of feedstuff and then with more and more.
PERFORMANCE
The effects on dairy cow:
Daily milk yield and milk fat of experimental cows were increased 4.49% and 13.65% respectively; as follows: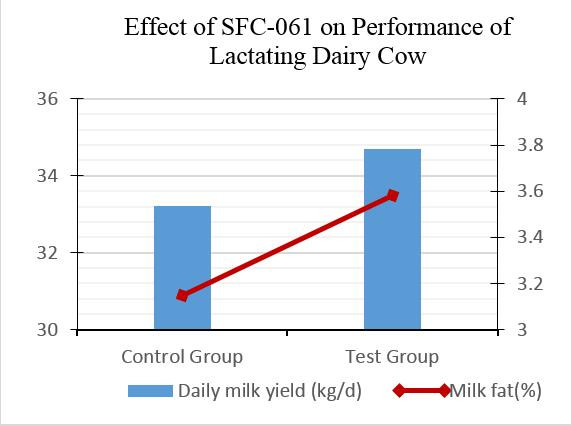 BENEFITS
l Increase daily milk output and fat milk content
l Disrupt plant cell wall, release nutrients, hydrolyze viscous NSP in feed and improve feed utilization;
l Reduce viscosity of chyme, improve the digestibility and absorption of nutrients;
l Increase volatile fatty acid (VFA) production in the rumen, improving energy utilization;
l Improve intestinal microflora composition favoring beneficial bacteria, reducing the incidence of mastitis;
l Reduce environmental pollution and microbial infections by reducing excretion of nitrogen and phosphorus.
SAFE HANDLING PRECAUTIONS
Enzyme preparations are proteins that may induce sensitization and cause allergic type of symptoms in susceptible individuals. Prolonged contact may cause minor irritation for skin, eyes or nasal mucosa. Any direct contact with human body should be avoided. If irritation or allergic response for skin or eyes develops, please consult a doctor.
WARNINGS
Keep sealed after use every time to avoid microbial infections and inactivation of enzymes until its finish.
PACKAGE AND STORAGE
Ø Package: 25kg/bag
Ø Storage: Keep sealed in a dry and cool place and avoid direct sunlight.
Ø Shelf life: 12 months in a dry and cool place (20℃).
For more details or any inquiries you may contact directly by sending us emails at: jeff2020@dingtalk.com