Sunson constantly invests in sourcing and developing outstanding strains for enzyme production. 20 PhD staff are engaged in strain development to manufacture safe, economic and robust products.
Strain Research & Development Lab is equipped with modern sophisticated lab facilities. In recent years Sunson has been investing over 30% of its yearly profit in R&D, and continuously bringing state-of-the-art enzymes to consumers.
At the same time Sunson also works with institutes and laboratories for establishment and maintenance of gene bank. Part of R&D projects are funded by Government. The institutes or laboratories in partnership with Sunson include Feed Research Institute of Chinese Academy of Agricultural Sciences, the Industrial Microbe State Key Laboratory at Fujian Normal University, and Luhua Biotechnology R&D Centre at East China University of Science and Technology.
Technical Background and Collaboration Project
1. Strategy of Research and Innovation
As a science and technology based company, Sunson has given the top priority to research and innovation so as to ensure its long-term sustainable growth, while satisfying the changing market needs.
As early as in 1997 Sunson produced its first batch of cellulase, which marked the start of cellulase production by submerged fermentation in China. Since then, with the goals to be a leading enzyme company, Sunson has been dedicated to product and application innovations, and successfully expanded its product lines and business land. Nowadays, Sunson is producing and supplying different series of products, in the form of either single enzyme or compound enzymes, covering the applications in food, baking, brewing, juice & wine, feed, textile, detergent, etc.

2. Sunson Research and Development Centre
Strain R&D Center
SUNSON Strain R&D Center focuses on strain development, which is supported by a group of very innovative scientists, engineers and lab assistants, most of them holding doctorate, master degree and/or senior engineer certificate. They are well connected to scientific and technical circles both in China and abroad. The long-term cooperation with famous universities worldwide helps us develop leading production strains. The following platforms ensure our efficient strain development:
① Strain breeding platform
② Protein isolation and purification platform
③ Gene cloning and expression platform
④ Protein engineering platform
⑤ Metagenome and high throughput screening platform
⑥ Fermentation optimization platform
Production Technology Center
Sunson Production Technology Center is run by a very experienced team coming from relevant backgrounds. There are various sophisticated facilities including 4 automated experimental fermenters. The Center undertakes the verification of strain bred from Strain R & D Center, scale-up trials and optimization of existing production. By compilation, implementation and improvement of SOPs and reviewal of production records against SOPs the Center ensures high-standard production in real practice.
Application & Development Center
SUNSON Application & Development Center bridges the gap between products and customer's needs. More than 20 employee having complementary academic background and expertise are in place to take care of different applications and the needs from market. A 260 m2 lab is equipped with sophisticated equipment, such as high-power microscope, thermostatic oscillator, lab fermentation tank, Kjeldahl Nitrogen Analyzer, high speed centrifuge, vacuum freeze drier, protein electrophoresis apparatus and HPLC machine. Perfect combination between market orientation mindset, qualified people and advanced equipment makes us ready to best serve our customers. Besides offering tailor-made solutions and services for customers in time, we keep following market trends and lead innovations.
Technical Service Center
To improve service, Sunson set up a separate Technical Service Center, where a group of professional and very experienced enzyme experts offer services for our customers in food, feed, textile, pulp & paper as well as detergent industry, provide professional pre-sales consultancy and after-sales technical support, and develop tailor-made solutions to address customer's issues through customization.
3. Technical Certificates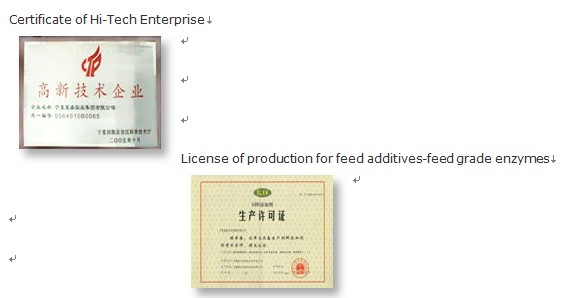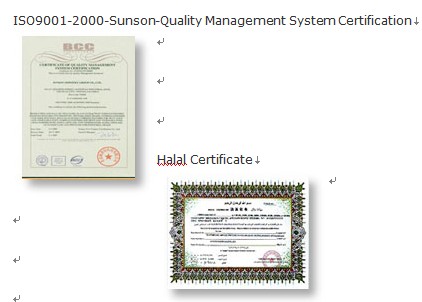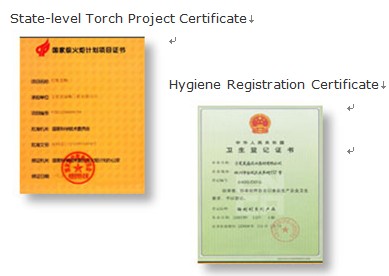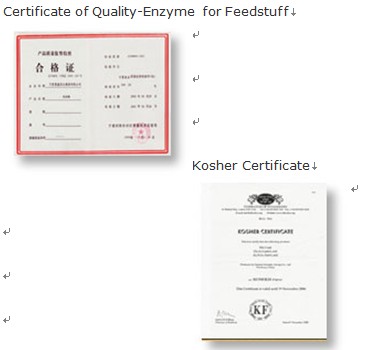 4. Collaboration Project and Job Opportunity
Today's world is characterized by information explosion and globalization. We are fully aware of the importance to follow the globalization trend and to build up more and more collaborations in information sharing and business exploration. Partnership with win-win strategy is the best way to go forward. In fact, Sunson's success so far exactly reflects the importance of partnership in developing new products with other companies, but Sunson will never stop in this direction and has the ambition to further improve people's living conditions and create a harmonious world. We are constantly developing new applications and new products, increasing production capacity, improving production strains and expanding business to more and more parts of the world. Therefore, Sunson is looking forward to the partnership of various kinds with companies, institutes, academies, any independent organization or qualified persons in enzyme-related fields from strain breeding, molecular biology, fermentation technology, product formulation, application development, business promotion to consultancy for enzymes and business, etc. We weigh your knowledge and competencies heavily. As an individual, you can be either an insider of an industry, a scientist focusing on enzyme or an employee once worked for an enzyme company in any country in the world. We are confident about our very strong R&D team and platforms, but we also realize that your participation will make us even stronger. Be part of us and you will fulfill yourself! Contact us now at sunson@chinaenzymes.com and we will feedback you with marvelous opportunities.
5. Sunson Technical Team
No matter how far away you are, Sunson's highly qualified and professional technical team will reach you timely at your request to address your concerns.
Sunson is SOMETHIMG to you and would very much like to work together with you to jointly face today's challenges in various aspects of life. Come to us, and we WILL be your valuable and reliable consultant or partner!