Briefing on 2017 International Fuel Ethanol Workshop & Expo
Briefing on 2017 International Fuel Ethanol Workshop & Expo
June 19-21, 2017
Minnesota, United States
As the largest, longest running, most authoritative ethanol conference in the world, the annual International Fuel Ethanol Workshop & Expo was hosted by the famous BBI International. The 2017 event drew more than 500 ethanol plants and 300 exhibitors.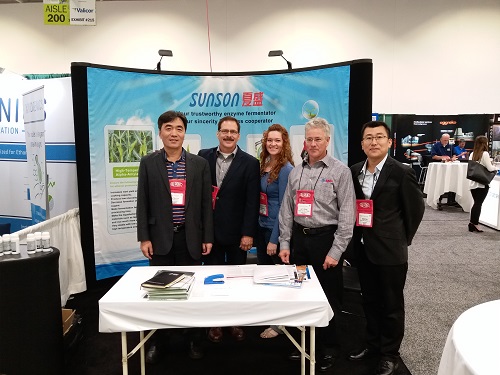 The Sunson International Department participated in the ethanol expo representing Sunson group.We show our products such as Acid Protease Glucoamylase Glucoamylase High-temperature alpha-amylase High-temperature alpha-amylase Low-temperature α-amylase Neutral Protease Pectinase Pullulanase Xylanase and so on. Many ethanol manufacturers and agents came to Sunson's booth to negotiate the intention of cooperation and request the samples for test during the exhibition. We had full knowledge and understanding of the needs in the United States local fuel ethanol market through this conference, and established a good image in the United States market that Sunson group was a professional enzyme producer. It has laid a good foundation for Sunson's further opening the United States fuel ethanol market.
We promoted our superior alcoholic enzyme products actively in the conference and American ethanol plants and agents expressed a strong desire to cooperate with us. This conference was a well known and influential expo for it also attracting many South American and India counterparts. We will keep the communication with American alcoholic customers for expanding the popularity of the Sunson brand and opening a broader market in the United States.