Complex enzyme for poultry feed Nutrizyme SFH-031
Nutrizyme®SFH-031 is complex enzymes for regular daily diet. Sunson Industry Group Co. Ltd. Launched Complex Enzymes for Regular Daily Diet according to the different kinds and contents of anti-nutritional factors in the materials of feedstuff and the physiological characteristics of animals in different ages. The product has been applied to many animals and obtained excellent effects through many animal experiments and applications.
Enzymatic Activities
Unit: u/g
| | | | | | |
| --- | --- | --- | --- | --- | --- |
| | | | | | |
| Nutrizyme® SFH-031 | | | | | |
| Nutrizyme® SFM-032 | | | | | |
This product also contains other enzymes such as Acid protease, Amylase and Glucoamylase.
The application results by abundant testing of poultry show that the regular daily complex enzymes produced by Sunson Industry Group Co., Ltd. could improve the utilization efficiency of nutrient of feedstuff, increase overall economic efficiency to 8-15%.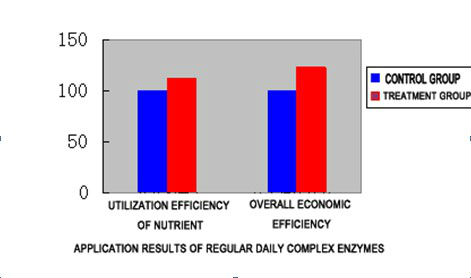 Benefits:
1. Efficiently break down plant cell wall, releasing nutrients, and therefore increasing the utilization of protein, carbohydrate and fat contained in the feedstuff;
2. It can efficiently avoid baby pigs' diarrhea by means of reducing enteron's stickiness, improving the intestines' microbe group and reducing the nocuous microbe's propagation Promote the growth of beneficial bacteria and check the growth of pathogens, maintain the gut health and avoid the occurrence of diarrhea in baby pigs;
3. Promote immune system of livestock and improve the animal's resistance to diseases;
4. Make up for the deficiency in native digestive enzymes and increase protein digestion;
5. Reduce discharge of nitrogen and phosphorus by livestock and environment pollution.
The various anti-nutritional factors present in normal feed normally leads to indigestion, low utilization of feed of monogastric animals and environment pollution. The product contains different enzymes, such as β-glucanase, xylanase, cellulose etc. working on these anti-nutritional substances to get rid of their negative effects. Also, for poultry supplement with exogenous digestive enzymes lack in body helps a lot with their digestion and absorption of nutrients in feed.
Application recommendations:
The product should be mixed with feed sufficiently. It's better to mix the product with small amount of feed first then with more and more feed. When used as dietary supplement, the product can be fed directly. The recommended dosages are as follows:
150g Nutrizyme® SFH-031 /t of feed, or 650-1000g Nutrizyme® SFM-032/t of feed for complete diet.
For more details technical support is always available.
Packaging specification: 25kgs/bag or 15kgs/bag
The shelf life is 12 months under room temperature.
Safe handling precautions
Enzyme preparations are proteins that may induce sensitization and cause allergic type of symptoms in susceptible individuals. Prolonged contact may cause minor irritation for skin, eyes or nasal mucosa. Any direct contact with human body should be avoided. If irritation or allergic response for skin or eyes develops, please consult a doctor.
Keep sealed after use every time to avoid microbial infections and inactivation of enzymes until its finish.
For more details or any inquiries you may contact directly by sending us emails at: jeff2020@dingtalk.com