Animal feed additive enzyme Nutrizyme SFW-035C for wheat based diet
INTRODUCTION
Nutrizyme® SFW-035C is complex enzymes for wheat based daily diet. Its components are made from finely selected microbial strains by submerged fermentation, separation and formulation. It's developed through joint efforts of nutritionist and microbiologist by feeding trials.
ENZYME ACTIVITY (Unit:u/g)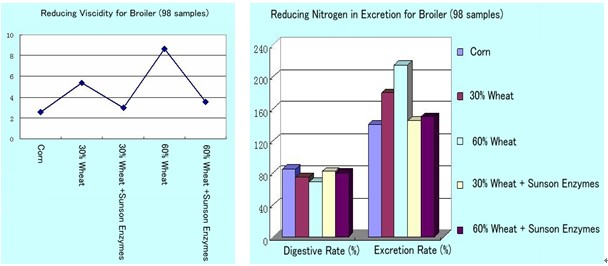 APPLICATION
Dosage 120-150g/mt
The product can be used either as feed additive or dietary supplement. Well mixing should be ensured when incorporating into feed. The recommended dosages are as follows:
1. If wheat accounts for 30% in feed, the dosage of 120g/mt is suggested; above 30% of wheat, 1g more of the product should be added for every 1% increase in wheat in feed. But we suggest the content of wheat in daily diet should not exceed 60% and the maximum addition of the enzyme is 150g/mt.
2. Adjust formulation methods: The metabolization energy of poultry can be raised to 3240kcal/kg (13.6MJ/kg), digestive energy of swine can be raised to 3400kcal/kg (14.2MJ/kg), biological cost utility of protein and amino acid can be raised by 5-7%.
PACKAGING AND STORAGE
Packaging specification: 25kgs/drum or 15kgs/box or 25kgs/bag
The shelf life is 12 months under room temperature.
SAFE HANDLING PRECAUTIONS
Enzyme preparations are proteins that may induce sensitization and cause allergic type of symptoms in susceptible individuals. Prolonged contact may cause minor irritation for skin, eyes or nasal mucosa. Any direct contact with human body should be avoided. If irritation or allergic response for skin or eyes develops, please consult a doctor.
Keep sealed after use every time to avoid microbial infections and inactivation of enzymes until its finish.
SERVICE
ØAs a leading enzyme manufacturer in China, we will provide fully technical support to you;
ØProvide assay methods for all enzymes and activity assay training for free.
ØProvide feed recipe adjustment references and related technical service.
ØProvide ordered product according to client's requirement.
For more details or any inquiries you may contact directly by sending us emails at: jeff2020@dingtalk.com