Phytase enzyme for animal feed Nutrizyme®PHY-P (Phytase Premier I)
Nutrizyme®PHY-P (phytase) [EC 3.1.3.26] is a highly concentrated thermostable premium phytase preparation produced by submerged fermentation ofAspergillus nigerfollowed by purification and formulation. It breaks down the undigestible phytic acid (phytate) found in grains and oil seeds and thus release digestible phosphorus, calcium and other nutrients. The thermostability, wide working pH range and the resistance to proteolysis of the product ensure its excellent performance. The even granulation and appropriate granulate size of the product make it easy to blend with feed well. Compared with mainstream products, Nutrizyme®PHY-P exhibits obviously better pH tolerance and thermostability, minimizing inactivation during feed pelleting process.
As an animal feed additive often used in poultry and swine feed, it improves the nutritive value of plant material in feed by liberation of inorganic phosphate from phytic acid (myo-inositol hexakisphosphate), thereby, reduce environmental phosphorus pollution.
1. pH profile of the enzyme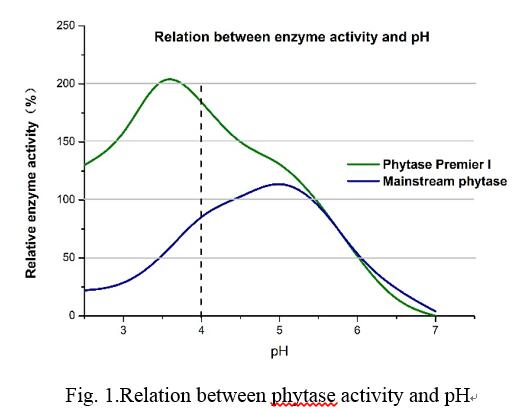 The optimum pH of Sunson Phytase Premier I was 3.5 and the working pH range was from 2.5 to 5.5. Compared to the current mainstream phytase on international market, Sunson phytase Premier I showed higher activity between pH2.5 to 5.5, which is more suitable for the digestion of phytic acid in animal gastrointestinal tract.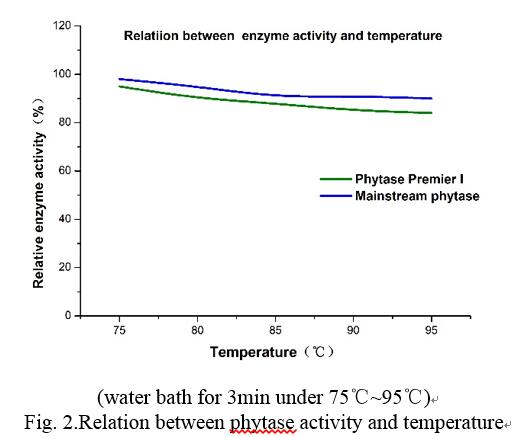 As illustrated in the above graph, the product remains more than 80% of its activity under test condition, which means a very good heat resistance.
3. Stability throughout the feed pelleting process
An experiment was conducted in a feed factory in Shandong province to examine the product stability under pelleting condition. The phytase was incoporated into a swine feed, conditioned for 90s at 85℃, 0.4MPa and pelleted for 10s in a Modulator (AG,CH-9240, Bühler Co., Wuxi China). The results are shown below:
Table 1. Thermostability under the feed pelleting process
| | | |
| --- | --- | --- |
| Source | Phytase Premier I | Mainstream phytase |
| Residual activity | 84% | 88% |
Phytase Premier I maintained high activity under feed pelleting process.
4.Tolerance to endogenous protease
Table 2 Resistance to pepsin and trypsin
Condition

Resistance to pepsin

Resistance to trypsin

buffer+ pepsin

buffer+ trypsin

pH

2.5

2.5

6.5

6.5

Temperature

40℃

40℃

40℃

40℃

Time

1.5h

1.5h

2h

2h

Protease concentration

__

1mg/ml

__

2.5mg/ml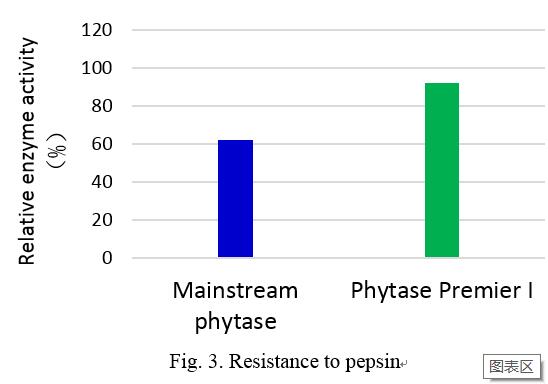 Compared to the mainstream phytase on international market, Sunson phytase Premier I has a better resistance to endogenous protease.
5. Phosphorus release capacity
The phytase was mixed with soybean meal, incubated at 40℃ for 4h at pH 3.0, then transfered to pH 6.5, 40℃ for 4h. Phosphorus release was determined and reported below: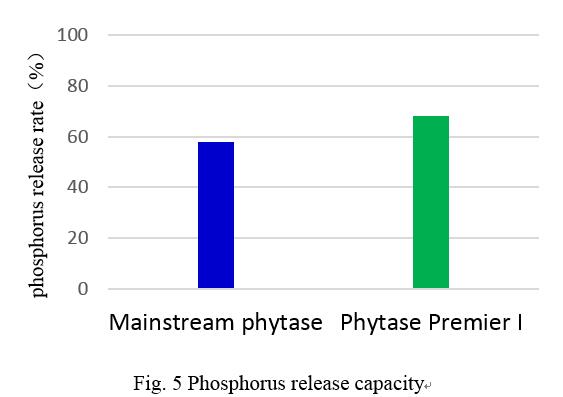 Results showed Phytase Premier I had much higher phosphorus release capacity than the mainstream phytase.
lEffectively hydrolyze phytic acid in the plant materials, increasing the phosphorus utilization rate of feed raw material;
lReduce the dosage of inorganic phosphorus, saving cost;
lBreak phytanate frame, releasing nutrients like starch, protein, minerals and increasing the utilization rate;
lLiberate phosphorus from phytate in plant materials, balancing the metabolic role of animals;
lImprove the absorption of nitrogen and phosphorus and reduce environmental pollution.
SAFE HANDLING PRECAUTIONS
Enzyme preparations are proteins that may induce sensitization and cause allergic type of symptoms in susceptible individuals. Prolonged contact may cause minor irritation for skin, eyes or nasal mucosa. Any direct contact with human body should be avoided. If irritation or allergic response for skin or eyes develops, please consult a doctor.
Keep sealed after use every time to avoid microbial infections and inactivation of enzymes until its finish.
ØStorage: Keep sealed in a dry and cool place and avoid direct sunlight.
Ø
Shelf life:
12 months in a dry and cool place (20
℃).
For more details or any inquiries you may contact directly by sending us emails at:

jeff2020@dingtalk.com