Catalase enzyme for textile Conzyme CAT200
PRODUCT DESCRIPTION
Conzyme® CAT200 is a liquid catalase preparation. It is specially developed for textile application to remove residual hydrogen peroxide and improves the last preparation prior to dyeing; it works within wide pH range to completely remove residual hydrogen peroxide, with great reduction in consumption of hazardous chemicals and water.
MECHANISM
Catalase catalyzes the decomposition of hydrogen peroxide to water and oxygen.
The reaction takes place efficiently under mild condition and doesn't require the use of harsh chemicals harmful to fabrics, saving cost, reducing processing time and environmental load.
ENZYME PROPERTIES
Temperature profile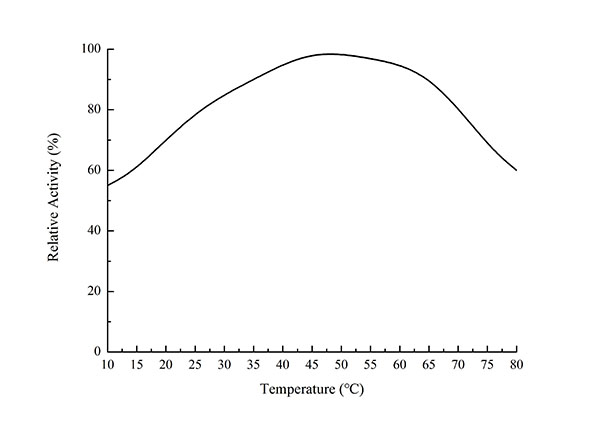 Fig 1 The temperature profile of
Conzyme®
CAT200
pH profle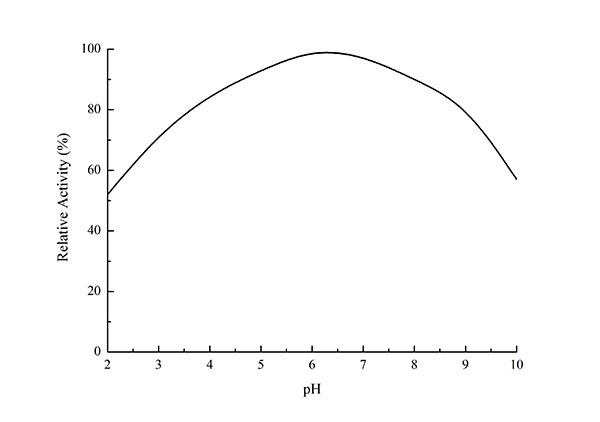 Fig 2 pH profile of
Conzyme®
CAT200
PRODUCT SPECIFICATION
| | |
| --- | --- |
| Items | Description |
| Declared Activity* | 200,000 SCATU/mL |
| Physical Form | Liquid |
| Color** | Brown |
| Odour | Normal microbial fermentation odour. |
| CAS NO. | 9001-05-2 |
| IUB NO. | EC 1.11.1.6 |
Definition of Unit: 1 unit of Catalase equals to the amount of enzyme which decompose 1μmol of hydrogen peroxide to water and oxygen at 30℃ and pH 7.0 in 1 min.
** Color: Color can vary from batch to batch. Color intensity is not an indication of enzyme activity.
BENEFITS
1. Complete removal of residual H2O2 in preparation for dyeing
2. Workable within a wide pH range, convenient in use
3. No damage of fabric
4. Reduced processing time
5. Reduced water consumption and waste discharge
6. Environmental-friendly & bio-degradable
APPLICATION RECOMMENDATION
Ø Reaction parameters
| | |
| --- | --- |
| PARAMETERS | RANGE |
| Activity Temperature | 10-80℃ |
| Optimum Temperature | 40-50℃ |
| Activity pH | 2.0-10.0 |
| | 5.0-8.0 |
Ø Application
Temperature: 10-80℃, optimum: 40-50℃
pH: 2.0-10.0, optimum5.0-8.0
Liquor ratio: 5:1-20:1
Dosage: 0.05-0.3% owg (after dilution)
Time: 10-20 minutes
The dosage has to be optimized based on each application, the raw material specifications, product expectation and processing parameters. It is better to begin the test with the convenient volume.
Ø Inactivation
The enzyme is inactivated at temperature above 100℃ for 10 minutes, or at pH above 12.0 for 10 minutes.
SAFE HANDLING PRECAUTIONS
Enzyme preparations are proteins that may induce sensitization and cause allergic type of symptoms in susceptible individuals. Prolonged contact may cause minor irritation for skin, eyes or nasal mucosa. Any direct contact with human body should be avoided. If irritation or allergic response for skin or eyes develops, please consult a doctor.
WARNINGS
Keep sealed after use every time to avoid microbial infections and inactivation of enzymes until its finish.
PACKAGE AND STORAGE
Package: 25kgs/drum; 30kgs/drum
Storage: Keep sealed in a dry and cool place and avoid direct sunlight. Slight sedimentation is acceptable since it will not impact performance of the product.

Shelf life: 9 months in a dry and cool place.