Neutral cellulase for textile Conzyme TM90
PRODUCT DESCRIPTION
Conzyme® TM90 is concentrated granular neutral cellulase preparation, which is designed specially for denim abrasion process. It is recommended for formulations that are used in bio-washing of denim garments and acts on denim garments to impart high abrasion and fading effect, which can also be used for the processing of the cotton, hemp, viscose, yarn and Lyocell.
MECHANISM
Cellulose is a glucose polymer linked with β-1,4-glycosidic bonds. Cellulase system consists of three major components: endoglucanase (endo-1,4-β-D-glucanase or EG), cellobiohydrolases (exo-1,4-β-D-glucanases, or CX, or CBH), and β-glucosidases (1,4-β-D-glucosidase; BG; BGL). These activities work synergistically on cellulose and efficiently convert cellulose into glucose. The product is so designed as to help with enzymatic abrasion of demin without harming the fabric.
PRODUCT SPECIFICATION
| | |
| --- | --- |
| Items | Description |
| Declared Activity* | 1,500u/g |
| Physical Form | Powder |
| Color** | Light yellow |
| Odour | Normal microbial fermentation odour. |
| CAS NO. | 9012-54-8 |
| IUB NO. | EC 3.2.1.4 |
*Definition of Unit: 1 unit of CMCase equals to the amount of enzyme, which hydrolyzes CMC-Na to get 1 μg of reducing sugar (in glucose) in 1 minute. at 50℃ and pH6.0.
** Color: Color can vary from batch to batch. Color intensity is not an indication of enzyme activity.
APPLICATION RECOMMENDATION
Ø Reaction parameters
| | |
| --- | --- |
| PARAMETERS | RANGE |
| Activity Temperature | 40-60℃ |
| Optimum Temperature | 45-50℃ |
| Activity pH | 5.0-7.0 |
| | 5.5 |
Ø Application
Temperature: 40-60℃, optimum 45-50℃
pH: 5.0-7.0, optimum 5.5
Liquor ratio: 5:1-20:1
Dosage: Denim:0.1-0.3% owg
Time: 45-60 minutes
The dosage has to be optimized based on each application, the raw material specifications, product expectation and processing parameters. It is better to begin the test with the convenient volume.
Ø Inactivation
Raising temperature above 80℃ for 10 minutes, or raising the pH above 8.0 for 10 minutes can inactivate Conzyme® TM90 completely.
Ø Inactivation
The enzyme is inactivated at temperature above 80℃ for 10 minutes, or at pH above 8.0 for 10 minutes.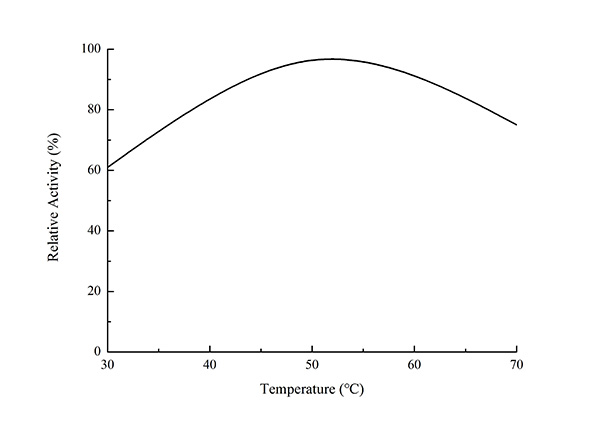 Fig 1 The temperature profile of Conzyme®
TM90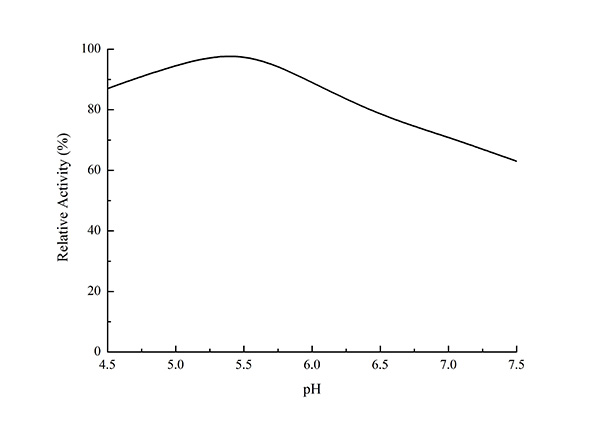 Fig 2 pH profile of
Conzyme®
TM90
BENEFITS
1. Fast abrasion
2. Clean and even fabric surface
3. Softer hand feel
4. Brighter colors
5. Environmental-friendly and Bio-degradable
SAFE HANDLING PRECAUTIONS
Enzyme preparations are proteins that may induce sensitization and cause allergic type of symptoms in susceptible individuals. Prolonged contact may cause minor irritation for skin, eyes or nasal mucosa. Any direct contact with human body should be avoided. If irritation or allergic response for skin or eyes develops, please consult a doctor.
WARNINGS
Keep sealed after use every time to avoid microbial infections and inactivation of enzymes until its finish.
PACKAGE AND STORAGE
Ø Package: 25kgs/drum; 30kgs/drum
Ø Storage: Keep sealed in a dry and cool place and avoid direct sunlight. Slight sedimentation is acceptable since it will not impact performance of the product.
Ø
Shelf life: 9 months in a dry and cool place.